You want to smoke meat, but sitting out in the rain tending a fire doesn't appeal to you?
If you're looking for a set it and forget it smoker, an electric smoker is ideal. While pellet grills do too, they are significantly more expensive and work differently than traditional electric smokers, so we'll concentrate on standard electric smokers that use wood chips in this article.
We believe the Char Broil Electric Smoker is the best electric smoker for most people due to its excellent insulation, clever wood chip tray system, and aesthetics.
Continue reading to learn why it's our top choice, as well as which electric smokers you should consider.
Top 5 Electric Smokers Comparison Table
1. Char Broil Electric Smoker –

Editor's Choice
Char-Broil has been serving the general population with home cooking and barbecue supply since 1984. Their tenure of service has shown through their years of experience with this electric smoker. There are several reasons why this is the editor's choice.
To summarize, it's simple. This smoker has everything you need in order to have one of the best electric smokers on the market. From the interior spacing to the ease of access for cleaning, to even the aesthetics. It hits all the marks consistently across the board to be the recommended choice for anyone. 
The Interior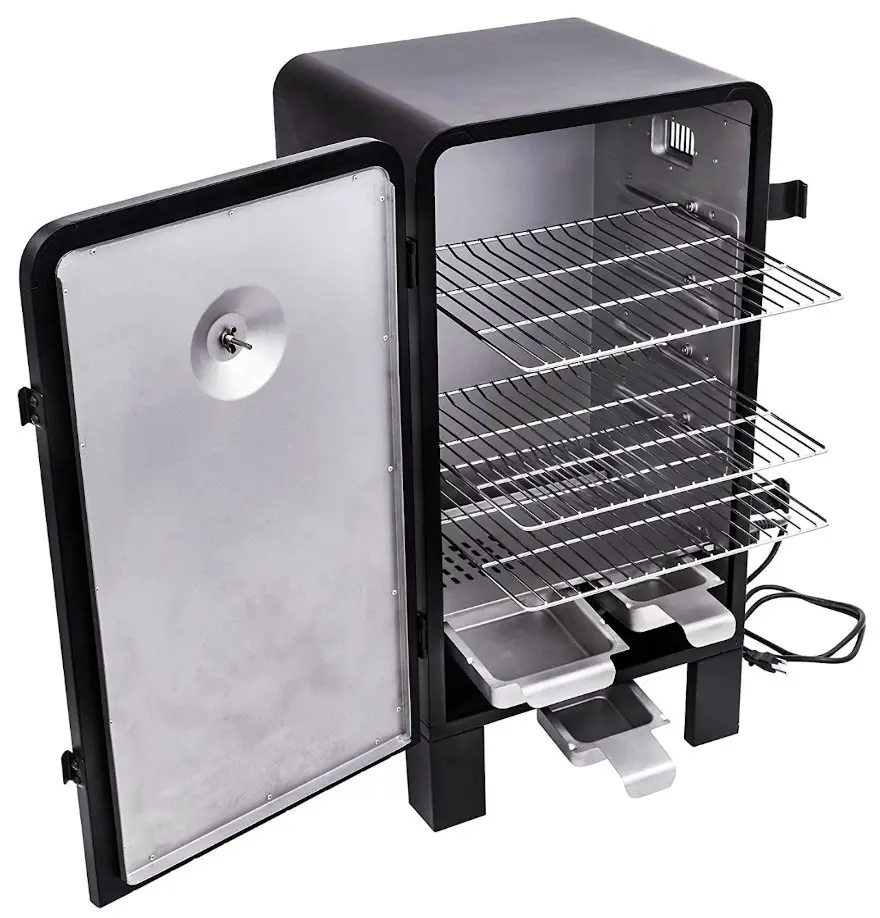 Starting on the interior, this smoker is perfect for anyone looking for a basic setup. No matter the level of expertise of your culinary skills, the Char-Broil 18202077 Analog Electric Smoker will keep up with you.
The interior sits at a total of 544 square inches of internal capacity. This electric smoker comes with 3 trays for easy placement of whatever is on the day's menu. Even better, the trays can be taken out if you don't need all of them. 
One thing about having multiple racks is that it allows strategic placement of your food. Naturally, your food will begin to drip as it cooks and part of fine-tuning your smoking skills is understanding what foods work best on which rack that way you can maximize flavors. It's almost like a drip hierarchy for the best flavors!
Speaking of dripping, the smoker has an easy-access drip pan, making cleanup a breeze. Additionally, a water pan to help keep all your food moist and juicy! 
It also comes with a large wood chip box so your worries of constantly having to refill throughout the smoking process are minimal. 
The Exterior
One of the biggest components of smoking food is controlling the heat. This electric smoker has a temperature gauge on the exterior so there's no second-guessing where your temperature is sitting at.
It also comes with carrying handles on the side and with this smoker weighing about 50 pounds, it can be very mobile if you need it to.
Why This Smoker?
Now aside from all these fantastic features, the main reason this electric smoker is rated so highly is because of the price. For everything that you get, it is the best-priced electric smoker on the market. Good quality product for an even better price is hard to come by.
This smoker can serve as a great beginner smoker or even an affordable smoker for a more seasoned (no pun intended) smoking veteran.
---
2. Smokin-It Model #2 Electric Smoker – Runner Up
Aside from a top-notch product, let's talk about the company Smokin-It first. This company is one of the underdogs on the rise and is easily competing with some larger brands like the previously mentioned Char-Boil. 
First starting out in 2009, Smokin-It is a brand that can be trusted simply by its level of care for its customers. They have discounts for first responders and the military and have also made a promise to their consumers that they will not sell wholesale.
This shows the value they put into delivering a quality product and customer experience. 
But their Model #2 smoker has served the smoking community with little to no complaints for years. 
The Interior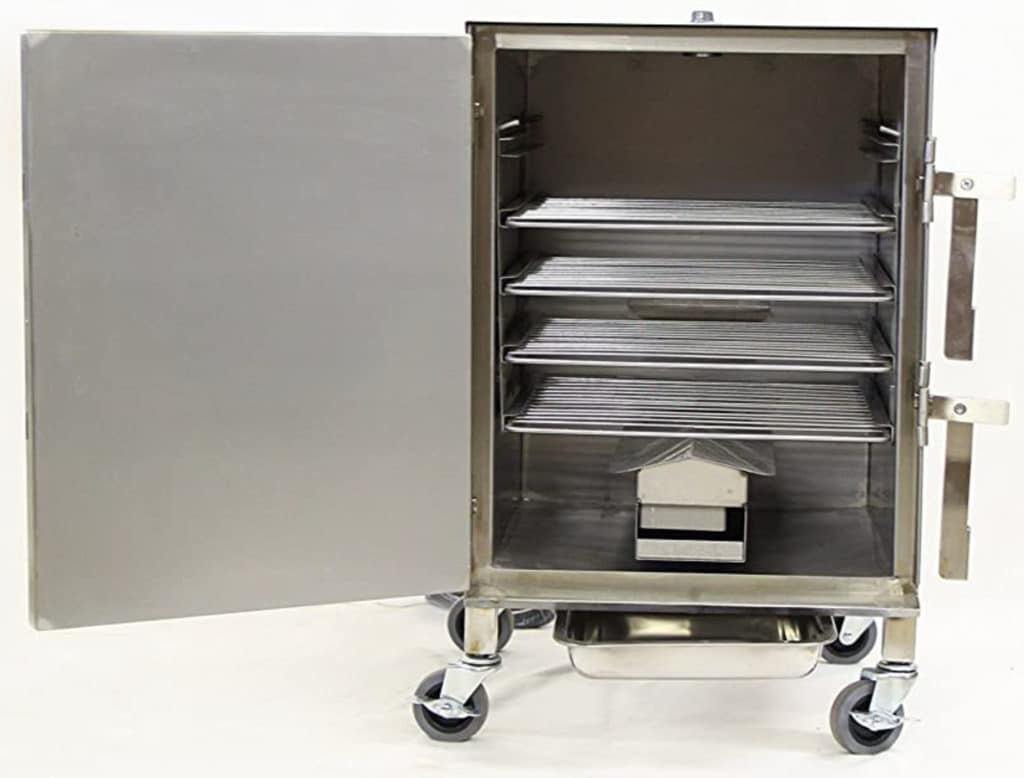 The Smokin-It Model #2 Electric Smoker is 15 inches wide x 15 inches deep x 20 inches high and can confidently smoke about 30 pounds of meat or seafood. Customers rave about how well it can hold heat due to the inside being lined with fiberglass.
This electric smoker also comes with 4 stainless steel grilling racks that sit about 2-½ inches apart leaving room still for an additional 5th rack if you so desire.
The Exterior
As versatile as the interior, Model #2 holds true to the value that Smokin-It promises. The exterior of the smoker sits at 17 inches wide x 20-1/2 inches deep x 24-1/4 inches high. Additionally, the smoker comes with 4 inches optional casters that will need to be attached if you want to use them.
This is also perfect in the event you already have a specific location to place the smoker and adding the casters would be in the way. 
The double-latching door locks ensure that the smoker is positively sealed and doesn't risk excess heat to escape ruining your smoking experience. 
There is a rheostat located at the top of the smoker that sits about 1 inch high and can help fluctuate heat ranging from 100-250 degrees Fahrenheit.
The handles on the sides of the smoker make moving around a little easier when used with the casters since the smoker itself weighs about 114 pounds. There is a smokebox and drip pan that sits under the smoker on the exterior as well making easy access.
Along with the 12-foot power cord, this smoker doesn't have to be stuck so close to the wall should your setup need it to be moved around.
Why This Smoker?
There are many reasons this smoker is a great choice for me, but what really got me was the overall quality Smokin-It offers. They are an actual American company that provides a 3-year warranty on its products and they like to stay connected with its customer base.
Additionally, this electric smoker is NSF certified for restaurant use. The biggest drawback is the price. The price is rated higher compared to other smokers which may have more features.
Though the overall quality sets the bar high, the features tend to lack against competitors in the same price range.
---
3. Cuisinart COS-330 Smoker – Best Value
The Cuisinart COS-330 Smoker is in my top picks because it is very accurate and it makes it easy for a smoking novice to get professional-grade results. The 1,500-watt heating element accurately controls temperatures between 100 and 400 degrees Fahrenheit.
The Interior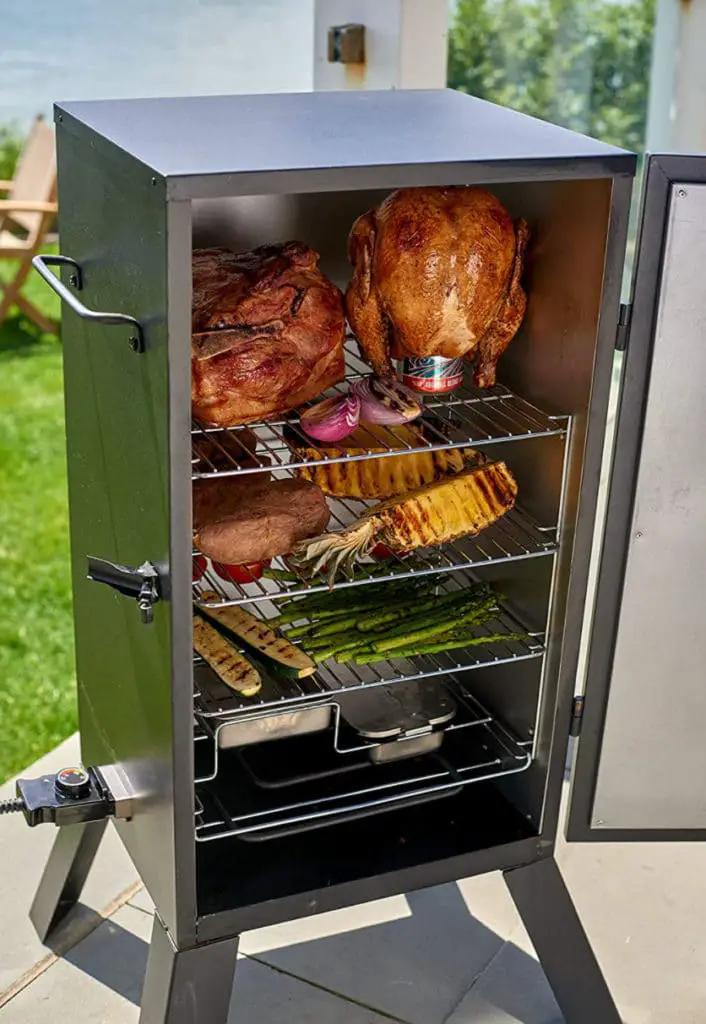 This smoker is easy to assemble. It features three shelves that are easy to remove and clean. There are similar trays to hold wood chips and water.
The adjustable trays provide you with an ample amount of space to have massive cuts of meat and vegetables. It is suitable for having smoked ribs, chicken, and pork tenderloin. If you are like me, that is amazing!
The Exterior
The Cuisinart COS-330 Smoker is 17.32 inches wide x 19.88 inches deep x 33.3 inches high. On the side of the smoker, there is a dial-style thermostat that helps you easily monitor the internal temperature at a glance.
This makes it easy to set the temperature and forget about it until it's done.
There are two side handles on the smoker which makes it easy to carry and move around. You can tell it is well made.
Why This Smoker?
Despite the absence of advanced capabilities, you still have a phenomenal degree of control over your heat. Additionally, its temperature controller is conveniently located on the cord for easy access so there's no reason to concern yourself with missing it – just remember that some trial and error may be necessary before becoming an expert!
---
4. Masterbuilt Electric Smoker – Best Features
The Masterbuilt MB20073519 Digital Electric Smoker is the best Masterbuilt electric smoker. Their name is popular among smoker enthusiasts. It manages this by providing a variety of modern features and old-fashioned good taste.
The easy-to-use wood chip loader offers an excellent way to flavor your meats. You can leave it alone for an entire day without bothering it.
The Interior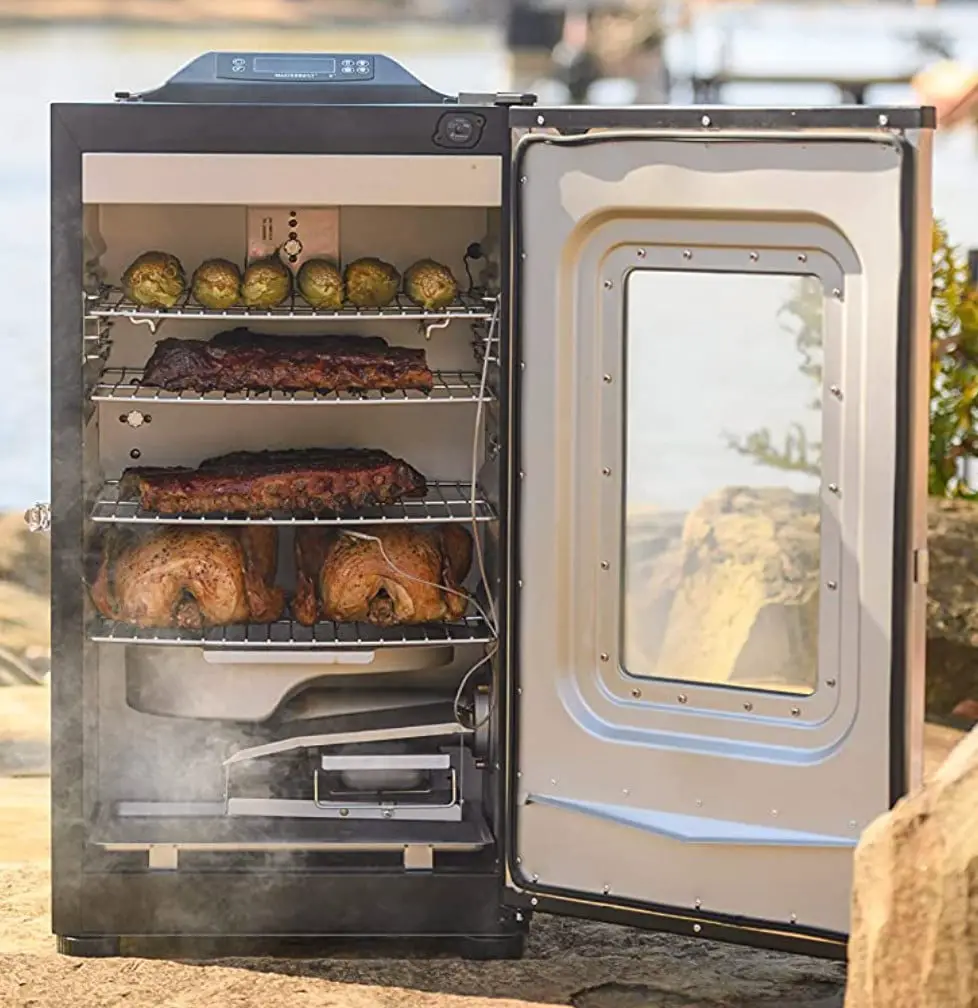 Lined with 4 removable racks, the interior of this smoker is insane! If you want to keep track of things, the unit comes with a built-in meat thermometer. Combine that with support for Bluetooth features, and you can track your meat's progress without approaching the device.
You can also control the temperature of the unit with the application.
The company advertises that the inside is capable of housing and properly smoking up to 6 chickens, 4 pork butts, 4 racks of ribs, or 2 full turkeys. That is an insane amount of food to cook at one time!
The Exterior
The outside of this electric smoker is unique because it is easy to navigate. Located on the top of the unit is an electronic control panel, with options for powering on/off, controlling the cooking temperatures, and even setting a timer.
Many aspects go into smoking, temperature and time being two crucial details to your smoking success. These easy-to-use options eliminate any second guesses that could ruin your food. 
On the smoker's side is a Masterbuilt patented wood-chip loading system. This feature is a beneficial feature because you can keep adding wood chips to the smoker while cooking without risking losing any essential heat. 
The Masterbuilt Digital Electric Smoker sits 33 inches high x 20 inches wide x 19 inches long.
Why This Smoker?
This smoker made our list because of how simple it is, meaning any skill level can use this electric smoker with ease. The features that it comes with make smoking anything a breeze. Properly utilizing a smoker does require a high level of attention, and it can be easy to overlook many factors.
While some people have reported that the Bluetooth application has a short distance limit, it still manages to be a thoughtful and cost-effective design.
---
5. Char-Broil 17202004 Electric Smoker – Best for Beginners
Char-Broil is again making a second appearance on the list of best electric smokers. They have yet exceeded the standard with excellence by releasing this fantastic smoker. Calling all novice and professional smokers out there because the search for your next smoker is here.
If you're a 'set it and forget it' person then you may have found your next purchase. 
The Interior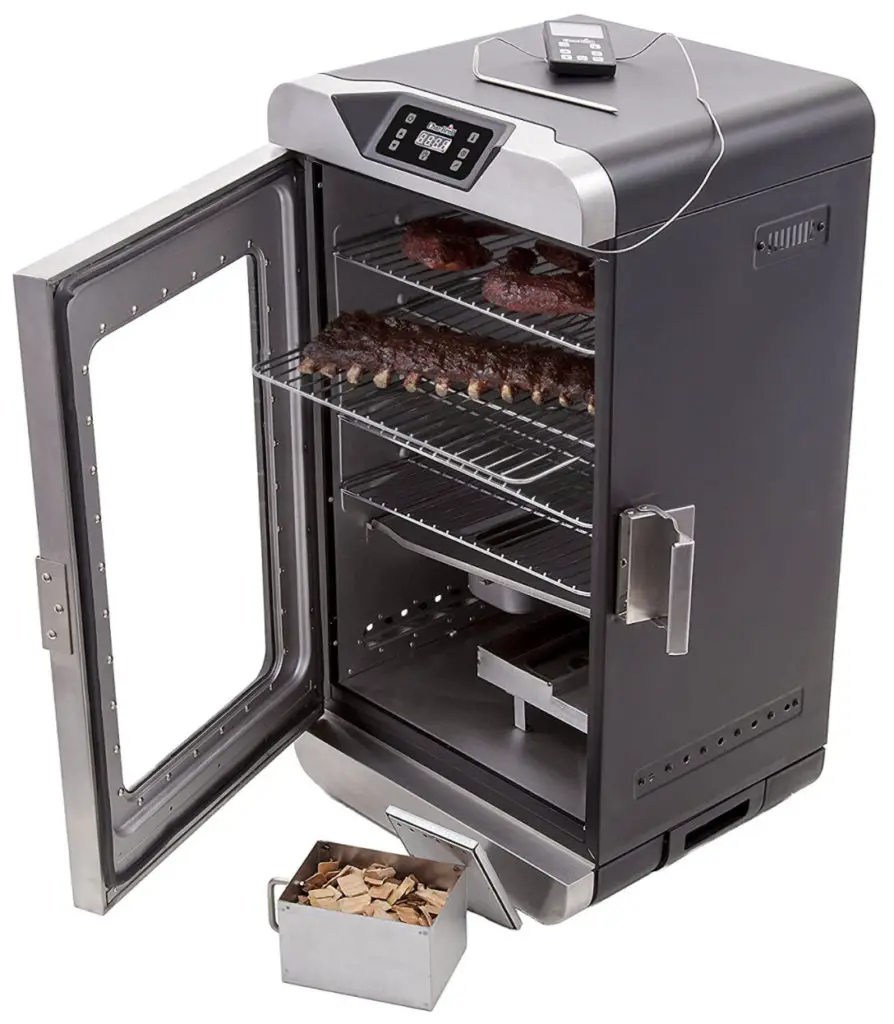 Sitting at a 725 square inch internal capacity, the Char-Broil 17202004 Digital Electric Smoker Deluxe is ready to house all size loads from a family-size meal to full-on catering. This double-walled, insulated smoker comes with 4 removable racks that will hold several types of foods at once.
Along with internal capacity, this electric smoker comes with a food probe that uses innovative technology to achieve the perfect temperature.
You pre-program what temperature you want the meat to cook to and then once it's done, the smoker will let you know and turn on its warming mode until you get the food out, ensuring that it remains fresh no matter what.
Smoking requires an acute level of attention, but fortunately, this smoker takes that off your plate for you. 
The Exterior
The smoker sits 18.1 inches wide x 16.5 inches deep x 32.5 inches high. Featuring a removable temperature gauge and an LED display on the front of the unit, the smoker allows for easy temperature adjustment.
Along with the display, the door to the smoker is made of glass, so it is easy to keep an eye on your food without needing to open the door and risk heat fluctuation constantly. The 8.5 cup grease container is easily located on the exterior, which makes for hassle-free cleanup.
Why This Smoker?
This smoker made a list mainly because of how flawlessly it allows you to smoke your food with minimal effort. Most smokers still require a higher level of responsibility from you to monitor and address throughout the smoking process, which makes spending the extra money worth it for the Char-Broil Deluxe.
The warming mode is another giant appeal because, if you have guests over, you won't have to keep checking on the food you are cooking. The smoker will watch over the food and keep it warm and fresh whenever you are ready!
---
Frequently Asked Questions
What is the Best Electric Smoker for Beginners?
If you are a beginner and want a great experience with an electric smoker, we recommend going with the Char-Broil 17202004 Digital Electric Smoker Deluxe. When starting out, you want to focus on the meat rather than trying to understand how a smoker works.
With this smoker, you can do just that. You can pre-program the smoker to the desired temperature so you can concentrate on getting the meat tender.
Best Smoker for the Money?
From the makers of Cuisinart, the Cuisinart COS-330 Smoker is a great value for casual smokers. It's a simple model that delivers reliable performance and good results when smoking meats and fish.
How do Electric Smokers Work?
An electric smoker functions by heating a cooking chamber in which the circulation of air takes place. That heats the food through the process of convection.
A single electric smoker unit comprises an internal heating element (typically an electric coil), a cooking chamber, a water pan, grill racks, a wood chip loader, and an ash collector.
The heating element raises the internal temperature of the smoker while the heating element also burns the fuel type (typically wood chips) to produce smoke.
How to Use an Electric Smoker?
Many electric smokers require you to "season" them. Seasoning your electric smokers involve letting your smoker run at 300 degrees for a few hours. During the final hour, you insert wood chips to remove any smoker's factory taste.
Not all smokers will have this requirement, so check your owner's manual before proceeding. After you season the smoker, use the following steps for cooking your meat:
Preheat smoker to 200 degrees Fahrenheit
Add water
Add wood chips
Wait for the smoke to build-up
Put in the seasoned meat
Wait several hours 
Return to baste meat, replace chips, and check the water
Wait until the meat is fully cooked
How often you check on your water and wood chips depends on your electric smoker's size. Use recipes available online and follow them closely to get a good idea of how your smoker works.
Are Electric Smokers as Good as Charcoal?
Electric smokers are ideal for beginners unsure of the temperature controls, amount of smoke and cook time.
These smokers offer pre-set regulations so that you can enjoy a flavorful meal without burning or charring the meat as these contain wooden fire pits, so you get the nice nutty, smoky flavor.
Why Buy an Electric Smoker Over Other Smokers?
The answer is pretty broad, but put it depends on you! There are so many reasons that an electric smoker is a preferred method. 
They are much easier to run and maintain than most other smokers. Other smokers require lighting charcoal, keeping the temperatures by using air vents, and consistently trying to find the right temperature. With most electric smokers, all that requires is a few buttons pushes, which takes the worry out of your hands. 
Another reason to consider, which is most people's defining reason, is price. Electric smokers may be a little bit easier on the wallet while also having more features saving you time and money from buying accessories. Perhaps even saving some frustrations! 
Finally, something else to consider is you. Are you cooking for leisure, or what if you run a restaurant and want to start offering some smoked options but don't have the time to invest every day into constantly checking up on your food?
Well, regardless of skill level, the electric smoker could fill the need of anyone. Offering more effortless ways to get just as effective as smoked food, the electric smoker can be the tool to save you time or help you learn even how to smoke, to begin with!
How Long Should Wood Chips Last?
You can change the wood chips as often as you want, but typically, they can last for five to six hours. The rule of thumb is to add or change wood chips as soon as the smoke gets thinner. Be sure to read my guide to get more in-depth into wood chips.
Moreover, it would be best to continuously put wood chips for half the cook time to get that smoky flavor.
What is the Water Tray Used For?
It adds humidity to the smoke chamber to keep your meat tender and juicy.
How to Clean an Electric Smoker?
First of all, the luxury of electric smokers is you don't have to clean them after every use. It's recommended you only clean them after every 3 to 5 uses.
When it is time to clean it, though, we always going to recommend referring to your product's manual for optimal cleaning tips. But, overall, you're looking at simply:
Wiping down the inside walls and doors
Removing any racks and cleaning them off
Emptying and cleaning out the grease tray
Removing ash from the chip or smoke boxes
Oiling up your grates (to eliminate food from sticking to it)
Again, refer to your product's manual for best cleaning practices, but it is easy to clean them.
How Often to Clean Electric Smoker?
As a general rule, you should clean an electric smoker after every 3 to 5 uses. After investing so much money in an electric smoker, you should maintain it as much as possible so it can last very long.
Can I Use Electric Smokers Inside the House?
Yes, but… Please follow all product manual precautions such as proper ventilation, not using combustible material (wood, charcoal, gas, etc.) for fuel, and any other precautions dictated by the manual. 
Which is Better? Electric or Propane Smokers?
Well, there isn't one superior to the other. It just depends on the person cooking. An electric smoker will be the best choice if someone wants to set it and forget it. 
If you don't mind babysitting the food and constantly chasing the right temperature, propane smokers may be the better option. Propane smokers produce results that are closer to charcoal-fueled smokers.
However, electric smokers will achieve and maintain desired temperatures much more straightforwardly, making the whole process easier on the person cooking the food.
What Kind of Wood Chips Should I Use to Smoke With?
The wood chips you choose should complement the flavor that you want. For an in-depth review of common types of wood chips, be sure to read my other article. For example, a definite barbecue flavor is excellent with hickory.
Below are a couple of other options you can use:
Oak
Maple
Mesquite
Walnut
Apple
Cherry
Some electric smokers, like the Pit Boss, rely on pellets. Pellets tend to come in the same woods but in different shapes.
Final Thoughts
Buying an electric smoker may be difficult because there are so many options. It can be genuinely overwhelming between brands, fuel types, sizes, shapes, features, and so many other factors.
The thing to remember is to find the right smoker that fits your lifestyle and budget.
This is an item that is going to be an investment and, hopefully, a one-time purchase.
Finding the right fit can be difficult, but some things to consider when deciding are:
How often will you use your electric smoker? 
How large portions are you typically going to smoke at one time?
Are you looking for a smoker that will do most of the work for you?
Do you want to be in control of the smoking process? 
Keeping these in your mind when purchasing will help narrow down the right smoker for you. 
If you are still struggling to find the right electric smoker, it may be best to err on the editor's recommendation and go with the Char-Broil Analog Electric Smoker. Its simplicity takes any second-guessing out of the question, and for the price, you honestly can't beat it. 
Regardless of who you choose, don't let the overwhelming considerations force you into the corner of never buying an electric smoker. They are tools that can only improve your family dinners or even boost your restaurant's menu significantly with ease!