When you go to the grocery store to pick up your barbecue supplies, what do you reach for regarding charcoal? A lot of people reach for charcoal briquettes. But did you know that there is more than one type of charcoal?
That's right, although charcoal briquettes are the most common choice for charcoal grilling, they are not the only game in town.
Some of the top pitmasters in the country hate charcoal briquettes. Instead, they use something called lump charcoal.
What is the Best Lump Charcoal?
As far as flavor and ease of use go, Jealous Devil All Natural Hardwood Lump Charcoal runs away with the race. As soon as you open the bag, you can smell the natural hardwood permeating these chunky lumps of premium coal.
They have been perfectly cured and are ready for the grill right out of the bag.
They also work well for a variety of foods. Whether you are smoking some salmon or are grilling a rack of pork ribs, the Jealous Devil charcoal imparts perhaps the most unique and deep flavors of any of the lump charcoal brands on my list.
Lump Charcoal vs Briquettes
Lump charcoal is made in much the same way as charcoal briquettes, except for a few fundamental differences. The first being that charcoal briquettes are not made from 100% pure wood.
Some of the most popular brands of charcoal briquettes are made of wood waste, sodium nitrate, starch, and sawdust. Why do they add these ingredients to the mix? Because they make it cheaper to produce briquettes.
On the other hand, lump coal is made of pure wood and burnt in special oxygen-deprived chambers. There are no additives in lump coal.
The second fundamental difference between these 2 types of charcoal has to do with the quality of wood.
Lump charcoal is considered a higher-quality product because it is typically made of choice wood like beech, oak, hickory, and other hardwoods. Charcoal briquettes, as mentioned earlier, are made from wood scraps and not all of the scraps come from quality wood.
Experts swear that using lump coal helps you achieve a better flavor in your meats, but even so, there are all kinds of lump charcoal. To help you separate the chaff from the wheat, I have compiled the following list of the best lump charcoal.
Top 7 Lump Charcoal Comparison Table
| Picture | Item | Wood/Flavor | Bag Size | Rating (1-5) |
| --- | --- | --- | --- | --- |
| | Jealous Devil Hardwood Lump Charcoal | South American Hardwood, mild flavor | 35 lbs | 4.6 |
| | Kamado Joe KJ-Char Hardwood, Extra Large Lump Charcoal | White Quebracho, Guayacan, Mistal, Guayaibi | 20 lbs | 4.1 |
| | Fogo Premium Oak Restaurant Hardwood Lump Charcoal | Oak hardwood | 35 lbs | 4.7 |
| | Cowboy Lump Charcoal | Hardwood | 20 lbs | 4.4 |
| | Rockwood Hardwood Lump Charcoal | Pecan, Missouri Oak, Maple, Hickory | 20 lbs | 4.5 |
| | Harder Charcoal Barbecue Grilling Lump Charcoal | South American Quebracho | 33 lbs | 4.6 |
| | Best of the West Lump BBQ Grill Smoker Charcoal | Mesquite | 40 lbs | 4.4 |
Jealous Devil All Natural Hardwood Lump Charcoal
Jealous Devil All Natural Hardwood Lump Charcoal is easy to light. A lot of people have a hard time lighting lump charcoal because the wood remnants tend to be denser and the lumps come in various sizes and shapes.
But Jealous Devil does a good job of keeping most of the lumps uniform and they catch fire like a dream. They also burn extremely hot so they are very good for over the fire grilling. And, you can't beat the flavor that this lump coal imparts to all your food.
There is also a good amount of versatility to Jealous Devil charcoal lumps. Because not only do they reach high heat and retain it very well, but they are also very useful for lower temperatures, prolonged smoking.
---
If you are an avid griller or smoker, then you already know the name. Kamado Joe KJ-Char Hardwood, Extra Large Lump Charcoal is all-natural lump charcoal that can be used up to 3 times.
They make some of the highest quality ceramic smokers/grills in the industry. Their lump charcoal is top-tier as well. These lumps last for an incredibly long time.
If you are smoking, they can last for up to 18 hours. In many cases, you can reuse them a couple of times as well.
The hardwood used to make this lump charcoal is sourced from choice cuts in Argentina that are exceptional for low and slow-burning.
---
Fogo Premium Oak Restaurant All-Natural Hardwood Lump Charcoal
Another problem that people tend to have with lump charcoal is that it pops and sparks up a lot when it hasn't been properly cured. This is something you won't have to worry about with Fogo Premium Oak Restaurant All-Natural Hardwood Lump Charcoal.
These lumps are perfectly cured, dried, and ready for the grill. They stand up very well in high winds too.
And if you prefer searing your meats, these lumps reach high temperatures very quickly but you can still get about 20 hours of smoking/cooking out of them at lower temperatures, around 200 degrees Fahrenheit.
---
Cowboy 24220 Lump Charcoal
The blend of oak hardwood, hickory, and maple that the Cowboy brand uses to make their lump charcoal is perfect when you want that classic grill taste without being a pitmaster.
This charcoal is great for beef and chicken as well as whitefish or salmon.
Performance-wise, it's nice that Cowboy 24220 Lump Charcoal burns clean. Even when you get it to temperatures upwards of 500 degrees Fahrenheit, it produces a nominal amount of smoke. These lumps are easy to control and very user-friendly.
---
Rockwood All-Natural Hardwood Lump Charcoal
If minimal maintenance is what you're after in your lump charcoal product, then Rockwood All-Natural Hardwood Lump Charcoal may be the best choice for you. Somehow, these lumps produce a minimal amount of ash.
They burn very clean but still impart a distinct flavor to all your foods, whether you are smoking a turkey or grilling asparagus. You can smell the quality of the wood used while you are cooking with this charcoal too.
---
Harder Charcoal 100 Percent Natural XL Barbecue Grilling Lump Charcoal
Quebracho charcoal lumps are notoriously hard to light for 2 reasons. One, this is an incredibly hard and dense species of wood. Two, because it is so hard, it is difficult to get them down to uniform sizes for charcoal.
Harder Charcoal 100 Percent Natural XL Barbecue Grilling Lump Charcoal has found a way by using the Quebracho Wood. You won't have any trouble lighting this charcoal and it lasts for an incredibly long time. 
This is a great brand of lump charcoal to use if you like slow and low smoking or grilling because it maintains low temperatures very well.
This is also a good product to use if you are grilling or smoking with a Big Green Egg, Primo, or Kamado Joe.
---
Best of the West Premium Mesquite Natural Lump BBQ Grill Smoker Charcoal
This is a great bag to pick up if you don't want to spend a ton on lump charcoal but still want a distinct flavor in your foods. Best of the West Premium Mesquite Natural Lump BBQ Grill Smoker Charcoal comes at a steal of a price for a 20-pound bag and you can get it for the same price in Mesquite or hardwood.
This charcoal is surprisingly easy to get started too, even though the lumps vary pretty widely in size.
This is a great brand to go with if you have never used lump charcoal before because it's affordable and stays lit easily as well.
---
Frequently Asked Questions
What's Better, Lump Charcoal or Briquettes?
The answer to this question will depend on your needs. The advantage of charcoal briquettes over lump charcoal is that they are much easier to light.
If you are new to grilling or you just don't have a lot of time to spend babysitting a grill, briquettes could work better for you.
But lump charcoal often lasts longer and imparts better flavor to foods. Plus, lump charcoal has no unnatural additives, so they burn cleaner.
What Temperature Does Lump Charcoal Burn At?
For the most part, that will depend on your product and the cooking method you are employing. But in general, lump charcoal can burn much hotter than charcoal briquettes.
You can conceivably reach a temperature of up to 1,400 degrees Fahrenheit with lump charcoal.
And on the opposite end of the spectrum, if you get lump charcoal that is made from particularly dense hardwood, you can maintain low temperatures for a very long period.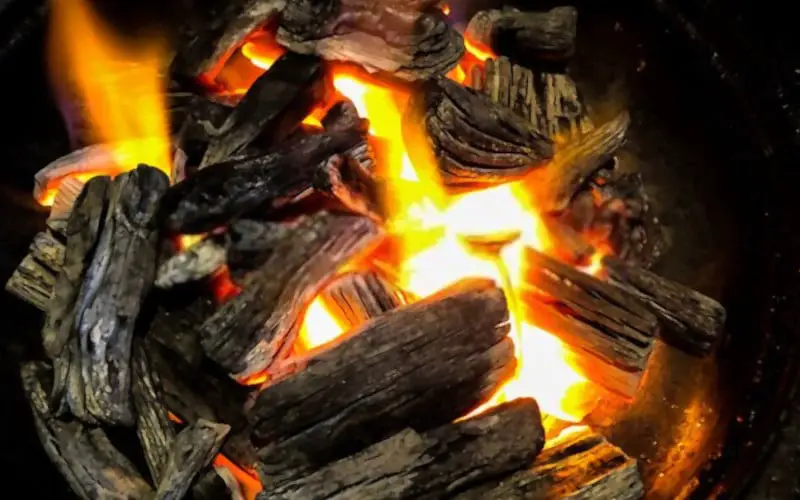 How Long Do Charcoal Briquettes Burn?
Most charcoal briquettes burn for approximately one hour, but some lump charcoal may burn longer because it is less refined.
You can also purchase kindling and starter cubes made to ignite easily and get the charcoal burning faster so you can enjoy your cooking sooner. These are also available in various woods, flavors, and shapes.
What Kind of Lump Charcoal is Best for Pork?
There are different schools of thought regarding this question but most pitmasters will tell you to use good hickory for a cut of pork. That's because hickory imparts the strongest and most distinct flavor to meats of all kinds.
And pork is notoriously hard to flavor correctly on the grill so it's easier to get a rich flavor profile from pork when you use hickory. 
What Does Lump Charcoal Look Like?
For the most part, lump charcoal will look like cuts of firewood. You are likely to see some charcoal lumps in the shape of small branches or smaller portions of a tree's trunk.
You might get some pieces of lump charcoal in long, slender cylindrical shapes while others may be more jagged, roughly hewn square shapes.
This is a stark difference compared to charcoal briquettes because charcoal briquettes are made into uniform little squares.
How Long Does Charcoal Last?
Lump charcoal typically lasts between three to four hours in a closed-off smoker. Eight to ten pieces will yield about 45 minutes of burn time on an open grill.
Stick within these recommendations for optimal results, but monitor the temperature levels with the help of a thermometer to determine when you have reached your desired outcome.
How Long Does it Take for Charcoal to be Ready?
The charcoal should take approximately 15 minutes to be ready for cooking, depending on your grill. The number of lump charcoal or briquettes you add initially will affect how long the coals take to reach cooking temperature.
It also depends on how hot the coals burn when you first light them — ideally, they will be covered in gray ash and have a white-hot glow after 3 to 10 minutes.
Conclusion
Getting the best lump charcoal for your hard-earned dollars will depend greatly on the type of grilling, searing, or smoking you do and the type of grill or smoker you typically use.
The good news is that there are a lot of options that can satisfy pretty much anyone's preferences.
You just have to know what to look for. For example, if you prefer smoking, you are going to want charcoal lumps that are made of denser hardwoods like the Harder Charcoal brand lumps that I highlighted on my list.
And if you do both over-the-fire grilling and smoking, you should choose a more versatile product like the Jealous Devil lump charcoal that I featured at the top of my list. But I also included a product for everyone in between because I know that no two cooks are exactly alike.
If you want the best lump charcoal for your next cookout, you can't go wrong with any items on my list. Be sure to check them out for yourself soon!