There seems to be an endless amount of options when looking for the electric smoker that works best for you. Typically purchasing an electric smoker of any variety is going to be a high-dollar purchase because we expect our purchases to last us for a long time. But, given the crazy amount of different options and combinations that electric smokers come in, really can cause us to feel a little overwhelmed. 
Fortunately, I created the smoke-hollow electric smoker reviews to stop you from hovering your finger over the purchase button and gathering some more information so you can buy in confidence. Electric smokers have become an absolute novelty in today's smoking world for a number of reasons.
They allow people to still be able to experience smoked food while also being a lot more accessible to people who may not have the luxury of being able to own gas or charcoal smokers. Electric smokers are also versatile enough for people who live in areas that may not allow charcoal or gas smokers on the property.
If that's not enough for you, then they are significantly less messy than those who would use a charcoal smoker and they are easy to clean and maintain.
What are Smoke Hollow Electric Smokers?
Electric smokers are becoming the new way of smoking for a lot of people, even a lot of major brands are beginning to produce a product line of them. Leading the race are 2 major brands called Masterbuilt and Smoke Hollow. For years these brands competed against one another until finally in 2017 they joined forces when Masterbuilt acquired Smoke Hollow.
So even though this list says Smoke Hollow, there are a few Masterbuilt electric smokers on here that made the cut, rest assured though it's coming from the same place.
Both companies have been in the smoking industry for quite some time so they know what people need and look for in their smokers. The smokers found on our list are for everyone of all skill levels, from beginners to pit bosses, these electric smokers get the job done. 
Without any further delay, let's get to the list.
Top 5 Smoke Hollow Electric Smokers
| Picture | Name | Feature | Price Range | Rating (1-5) |
| --- | --- | --- | --- | --- |
| | Smoke Hollow 26" Electric Smoker  | Best for Simplicity | $150 – 200 | 4.3 |
| | Masterbuilt 30" Digital Electric Smoker  | Best All Around | $150 – 200 | 4.4 |
| | Masterbuilt 30" Bluetooth Electric Smoker  | Best for Versatility | $250 – 300 | 4.3 |
| | Masterbuilt 40" Bluetooth Digital Electric Smoker  | Best for Large Parties | $350 – 400 | 4.3 |
| | Masterbuilt 30" 3-Rack Analog Electric Smoker  | Best for Beginners | $150 – 200 | 4.5 |
1. Smoke Hollow 26142E 26-inch Electric Smoker – Best for Simplicity –
Editor's Choice
Sometimes sticking to the basics is what's best. In fact, a lot of the pitmasters grow their skills from perfecting a lot of the foundational skill levels. That's what Smoke Hollow brings us to the table, simplicity at its finest, but results that yield that of a true pitmaster.
A lot of smokers nowadays come with different technological additions that may not be totally necessary depending on the type of smoker you are. Smoke Hollow has created a product that will get the job done with none of the added gizmos that can sometimes cause you to make a wrong decision. 
Some higher-end smokers have a lot of different features that let you adjust even the slightest of details throughout the smoking process. As amazing as those may seem they also leave open a lot of room for potential mistakes to be made that could do more harm than good. Fortunately, Smoke Hollow left out the potential for those mistakes and kept it simple. 
This smoker has an adjustable temperature control gauge on the exterior of the smoker. Smoking is all about temperature and without the ability to adjust to the exact temperature as you go can cause a lot of frustration. With this smoker though, you pick the temperature you want it to be at and the smoker does the rest for you. 
Additionally, this smoker comes with a large interior which means catering for large parties is easier than ever. Sitting at in interior capacity of 1.3 cubic feet, for those who don't understand that, Smoke Hollow advertises that you can smoke two whole turkeys at once inside of it. 
This smoker was the Editor's choice because of the large internal capacity with the adjustable temperature gauge and all for a really great price, it's hard to say no.
---
2. Masterbuilt MB20071117 30-inch Electric Smoker – Best All Around
Many smokers out there don't give you the best of both worlds, whether it be having digital controls, plenty of internal space, or even accessibility while cooking. Fortunately for us, Masterbuilt did all that exactly with their 30-inch digital electric smoker.
Everyone from beginners to experts understands that one crucial aspect comes with successful smoking.
Temperature.
Having the ability to easily regulate temperatures means everything to a smoker because it means that the food can be more consistently cooked. With this Masterbuilt smoker, we can do all that and more because they have intelligently designed the layout of the smoker to match exactly what we need. 
This smoker has external access to the wood chip trays which saves everyone on temperature regulation while cooking and also from getting smoked out when you're switching out the wood chips. When you're smoking food for a long period of time the wood chips you use will often burn out and need to be replaced so you can keep a consistent smoke and flavor.
The Masterbuilt allows you to avoid opening up the smoker and instead access the wood chips without sacrificing your face or the temperature fluctuations. 
The digital controls allow you to easily achieve your desired temperature without a second thought. Also, this smoker comes with 4 different smoking racks that can easily be taken out as needed. Masterbuilt says that this smoker is capable of smoking 6 chickens, 2 turkeys, 4 racks of ribs, or 4 pork butts which means feeding a large crowd is no worries at all.
---
3. Masterbuilt MB20073519 30" Bluetooth with Broiler Electric Smoker – Best for Versatility
Everybody knows that when it comes to cooking, you have to be able to juggle multiple things at one time if you want to have a successful meal. Typically you throw things on the smoker, then head into the kitchen to prepare the rest of the night's meal.
What's even worse is if you're especially busy and don't have time to babysit the food you put on the smoker. If you're looking for a smoker that makes life just a little bit easier so you can focus on other tasks, then Masterbuilt has the product for you. 
This product's coolest feature is that it has Bluetooth capability which means you can connect your phone to the smoker. Yes, this means that you can get so much done without having to run out every hour to check on the status of your food.
What's even worse is how forgetful we can be when we're doing a million things at one time, and forgetting the food on the smoker is the last thing anyone wants. It takes so long to smoke food and there's no timely way to recover from a smoking mistake, it could mean the end of the whole night's meal. 
Not with the Masterbuilt Bluetooth smoker because by connecting your phone to it, you can really set it and forget it. Not only will it keep you updated throughout the cooking process, but you can even make adjustments from the kitchen.
Being able to remotely adjust the lighting, temperature, monitor meat temperatures, or even just turning on or off the smoker can save a lot of time and worry that comes with smoking.
Another unique feature is that this smoker has a built-in grill/broiler, which means the ultimate smoker for any job. Additionally, the smoker comes with a built-in meat probe which means you're going to get an accurate read and results every time.
The Masterbuilt side-access wood chip tray makes it easier than ever to empty and replace the wood chips as you're smoking without losing the temperature inside the smoker. This smoker seems like they can do it all with no questions asked.
---
4. Masterbuilt MB20074719 40" Electric Smoker – Best for Large Parties
The Masterbuilt 40-inch Bluetooth Digital Electric Smoker really holds up to the testament of "large and in charge." This electric smoker is ready to take on any task that stands in its way from catering to a simple one-meal smoke session. This smoker not only is huge, but it comes with all of the same amazing features that its counterpart the Masterbuilt 30-inch Electric Smoker comes with. 
When you're in the heat of the moment cooking for large crowds you don't have time to sit and watch your smoker, instead, you need something that can allow you to multitask and watch itself. This model does not come with a broiler or grill, but for those catering to large crowds, you utilize the full maximum internal capacity your smoker allows.
However, the Bluetooth capability does allow you to monitor and control the smoker while it's cooking so you can focus on other things going on in the kitchen. 
Masterbuilt advertises that this smoker can hold up to 16 chickens, 4 whole turkeys, 8 racks of ribs, and 8 pork butts. Cooking that much food is quite the challenge, but fortunately, Masterbuilt has added a window to view things from the outside so you don't have to risk opening up the whole smoker to check on your food.
Also, they included their patented side-loading wood chip tray so, again, you don't have to worry about losing temperature to just change the wood chips out. This is a huge win for any smoker, but for someone who is catering to large crowds, this is an even bigger win because cooking all that food requires all of the temperature regulations you can get.
---
5. Masterbuilt MB20070210 30" 3-Rack Electric Smoker – Best for Beginners
Wrapping up the list is the Masterbuilt 30-inch 3-Rack Analog Electric Smoker which is going to be best for those who are new to smoking or just don't intend on smoking a lot at once. It's not significantly smaller than the other smokers, but it doesn't hold as much as other previously mentioned smokers. This doesn't take away from it is more than capable of handling tasks you throw its way. 
This electric smoker comes with 3 removable racks that, when used all together, can comfortably fit 3 chickens, 2 full turkeys, 3 racks of ribs, and 3 pork butts. That's still a lot of food to be able to handle at one time even for the solo smoker or family meal.
Additionally, this smoker comes with adjustable temperature control on the outside of the smoker making it easy to control what temperature the smoker should sit at. Finally, there is an external grease tray that sits on the bottom of the smoker for easy access while smoking. 
For those looking to get into smoking or just want a simple setup for their backyard smoking adventures, this might be the perfect setup for you!
---
FAQs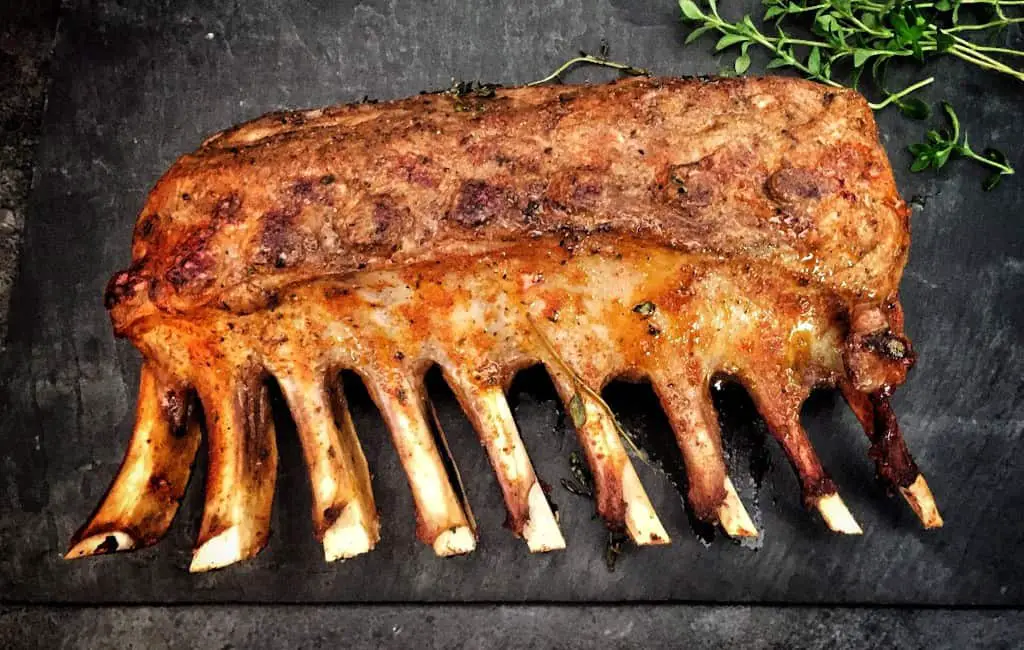 How to Use a Smoke Hollow Electric Smoker?
Using a Smoke Hollow Electric Smoker is as easy as they come and fortunately, there isn't really just one way to use it. If there are any questions on how to use it then it's always best to refer to the manufacturer's provided manual for best practices.
For a quick overview of how to use the electric smoker, here's a reference:
Ensure the proper amount of water and wood chips are in designated trays before turning them on.
Set the desired temperature.
Allow the electric smoker to heat up to the desired temperature. While the smoker is heating up, prepare the food for smoking.
Once the desired temperature is achieved, place the food on the racks and close the door.
Every hour or two, check on the food to ensure it's cooking evenly. While checking on the food, insert a meat thermometer, or read meat probes for internal temperature.
Once the food has reached the desired internal temperature, take it out and allow it to cool. 
Once the food is pulled from the smoker, please turn it off and clean it after it's cooled down completely.
To see more tips and tricks on smoking with an electric smoker, check out this video.
How to Clean a Smoke Hollow Electric Smoker?
Cleaning an electric smoker is not a very difficult task, but yet it's extremely essential to ensure that your smoker lives a long life. All smokers should come with a manual from the manufacturer that will specify exactly what you need to clean your specific smoker. As I've found in this article while reviewing smokers, not all of them are made the same.
However, certain aspects of cleaning smokers can translate to all models available. Always read your smoker's manual to ensure that there is not a specific step that your smoker requires.
Take out all removable trays and thoroughly wash them. All grease, ash/wood chip trays, and water trays should be removed and cleaned properly depending on the material they're made of.
Remove the racks and wipe them down leaving them free of any char or grime. Oil the racks by taking a paper towel and vegetable oil and wiping the racks with the paper towel. This will help food from sticking to them for future uses. 
Wipe down the inside of the smoker. This may take a little bit longer, but it's important that the whole inside of the smoker gets wiped down and is free from any ash, grime, and grease.
Once everything has been wiped and cleaned, place everything back in the smoker.
After the inside is completely cleaned out, wipe down the outside of the smoker to help hold strong against the elements.
For a visual on what it looks like to clean your electric smoker check out this video.
How to Season Your Smoke Hollow Electric Smoker?
Smoking your electric smoker is one the most important steps to take especially when first getting it. Seasoning will help ensure that the smoker holds strong for future uses and not corrode fast, sending the money you invested in the smoker down the drain after only a few uses.
Every smoker should come with a manual that details what you need to do to make sure that it is properly seasoned.
To season your smoker, simply do the following:
Take a paper towel that has vegetable oil on it and wipe everything down on the inside including the racks. They shouldn't be heavily saturated, but a thin coat is more than enough.
Turn on the smoker and set it to the maximum it can reach.
Open up the smoke vents to fully ventilate it.
Let the smoker sit at the maximum temperature for 2 hours.
After the 2 hours have passed, add wood chips to the tray and allow them to smoke for another 45 minutes to 1 hour.
After 45 minutes to 1 hour have passed, turn off the smoker and you're all set!
How to Get Wood Chips to Smoke in Your Smoke Hollow Electric Smoker?
If you're having a harder time getting your wood chips to smoke, then there are a few potential troubleshooting methods you can try.
First, make sure that the wood chips have a chance to soak in a liquid before being used in the smoker. This will allow them to get all the smoke possible out of them because dry wood chips won't produce as much smoke. Water, wines, whiskies, and even meat stocks are potentials to use, most people use water to keep the flavor of the chips consistent.
Another area to check is to make sure that the smoker itself is sealed properly where it should, meaning the door is fully closed and isn't letting out any sort of smoke. The only places that should be open are the vents. If the door is sealed properly, ensure that the vents are open enough to allow airflow to come in and get the chips smoking. 
Finally, another aspect to check is that the unit is burning hot enough to get the wet chips to produce smoke. If there isn't enough heat then the chips won't have a chance to get hot enough and smoke. 
Conclusion
Picking the right Smoke Hollow electric smoker is not the easiest of tasks, but it doesn't have to be the most difficult. Hopefully, this list has brought at least a new perspective to your smoker shopping outlook that can help narrow down the right smoker for you. 
If you are having a hard time deciding which smoker to choose then it's always best to first start with the price point. Determining how much you're willing to spend without breaking the bank is a great starting place because from there you can quickly narrow down your options. If you want the editor's choice, my recommendation is the Smoke Hollow 26142E 26-inch Electric Smoker.
After you have a price range determined, look at the products within that price range, and then decide what features you need to have and what you can live without. Knowing which features you need can be a bit tricky, but it starts with understanding what you want to do with your smoker. Do you intend on feeding large crowds? Or are you a multitasker in the kitchen? 
Asking yourself the questions of what kind of person you are in the kitchen can help you find the smoker that best suits your style of smoking and then applying the price range to finalize your decision. Investing in a smoker is supposed to be something that you should take seriously because your smoker is an item that should last you a long time and even be the source that feeds your family or even business.
Take the time and learn everything about the potential smoker you are going to invest in because it could mean the difference between losing a lot of money and frustration and making it up ten-fold in the long run.